Webinars have become the one-stop solution for businesses to reach out to consumers or expand their horizons as it allows interaction in the best medium possible by combining visual and audio outputs together. It has also become a vital strategy for B2B and B2C marketing for making brands reach wider audiences, thus, it has led to the growing popularity of the various webinar software platforms.
In this article, we will discuss in detail all the right webinar software platforms for you to teach, sell and reach out to the right audience group in search of your products or services. It has almost become mandatory to either attend or know about webinars especially during the time of the Covid-19 pandemic, where everyone wants to keep up with the world while staying indoors. Many industries or companies have to opt for this change as businesses
Also, read about: Gender Inclusivity Steps From Zoom: Zoom Launches Pronoun-Sharing Features
Why do webinars play an important role?
Webinars provide the platform where businesses can build a more personal relationship with their audience where questions, queries answering is possible. Another important aspect is recorded or automated webinars will do the work for you even when you are asleep!
In this article, we will check out some of the best webinar marketing solutions which anyone can use to create webinars with individual strategies and running tactics. This platform, similar to all the other solutions, has both pros and cons but it is best suitable for marketing products, services, educational content, teaching, etc. Webinars are a great way to reach out to your audience, sell your brand, products, and services, along with adding better value to your audience.
It is highly flexible in terms of content, pricing, features, etc and several websites make creative webinar creation much easier than ever before. Based on the ultimate goal-orientated towards, interaction, educating, or training the aspects will differ.
Demio
Demio is one of the best webinar software platforms that provide hassle-free webinar creation. Throughout the tough times of Pandemic, this platform has evolved, thrived, and kept growing along with the global marketing needs of establishing themselves online.
Demio is a powerful and modern platform that offers live, automated, or pre-recorded webinars along with the option to create hybrid mixes of these types. Throughout the webinar, interactive features like live polls, live document sharing, question, and answers section, call-to-action-buttons, etc are available.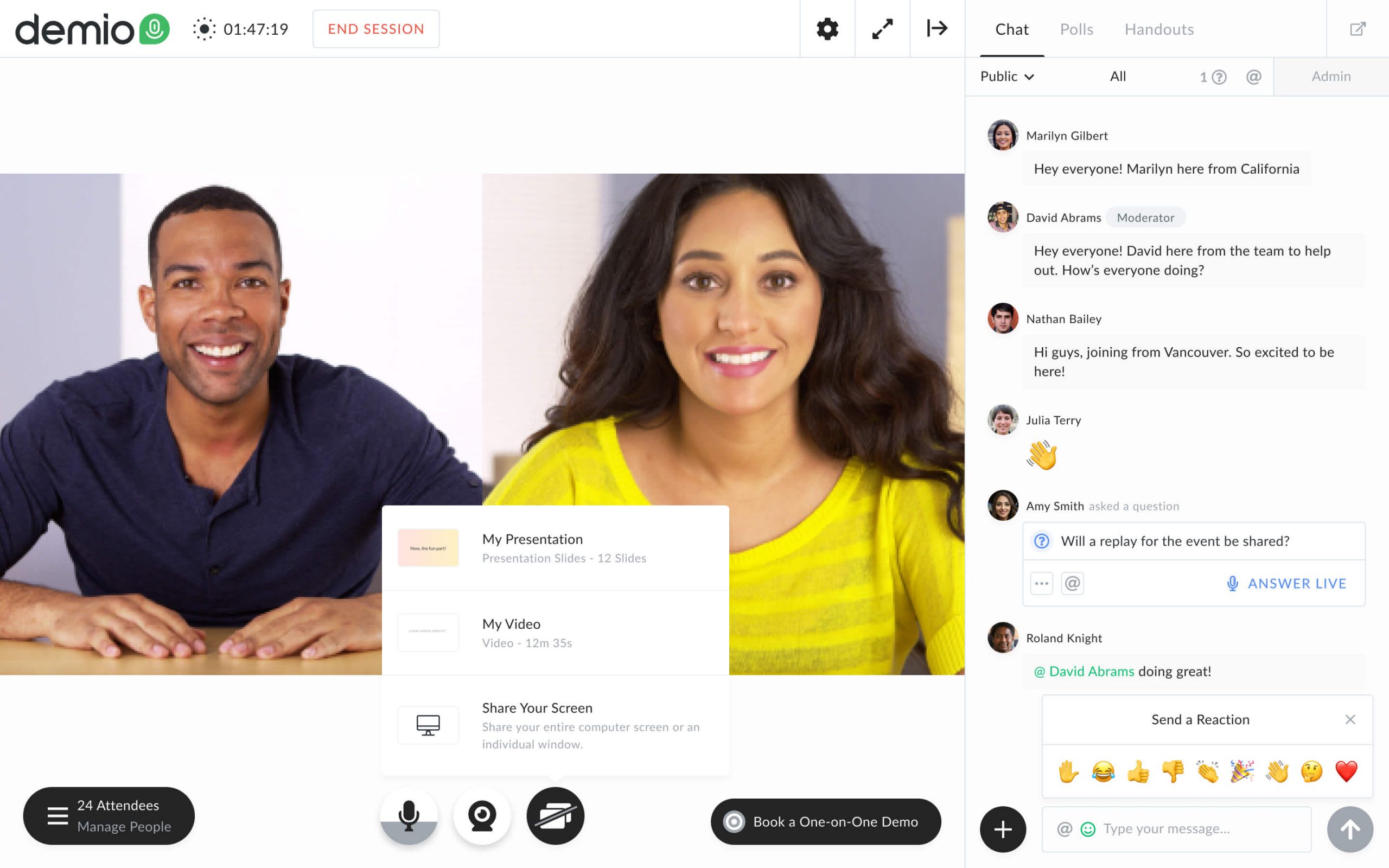 Demio features
The 'Stay registered series' option allows users or attendees to sign up once for an ongoing series of webinars.
The private chat allows private message sharing to hosts, participants, etc whereas it also features the option to share it with everyone.
Businesses can own a branded registration page for better consistency and brand reach.
The automated replays of webinars help build the email lists.
Check the webinar performance and evaluate with analytics.
Demio is specifically designed for marketing teams in search of a dedicated webinar building tool with features for automated replays and live webinars. For non-profit organizations, and educational organizations Demio offers a 50% discount for the companies.
Hence, if you are looking for a platform to support efficient educational training or session, Demio will fulfil all the criteria required.
Also, check out: Best Video Conferencing Tools To Make Your Live Meetings Successful
GoToWebinar
The GoToWebinar is one of the most popular and best webinar software platforms that provide webinar space with over 50K customers. All the plans of this platform come with a free $300+ GoToMeeting account.
It has the flexible design of suiting anyone irrespective of whether you are a beginner or a pro in using webinar software platforms. One can change the entire look, appeal, etc to get the feel of your brand by customizing the registration pages, viewing analytics reports about when a participant entered, left, and much more.
GoToWebinar features
Enjoy interactive features like live chat, polls, and share or send files to viewers
It provides phone numbers and other call-in options
Drawing tools, video embedding, payment options, video editing tools, etc are available based on the plan.
One can explore the free 7-day trial before choosing the plans that start from $49/month for the Lite plan with 100 participants, Standard is $99/month for 250 people along with some additional features. They also provide Pro and Enterprise offerings allowing up to 3,000 attendees too.
Webex
Webex is a webinar software platform that combines a wider range of features for supporting meetings, events, training sessions, interactive presentations, and team collaboration with ease. The pricing ranges are similar to the options that we explored before but the features are way different for your money compared to GoToWebinar and a completely different set of features to Demio.
WebEx features:
Allows conducting webinars and hosting video conferencing for meetings, live sessions, pieces of training, etc.
Provides tools for chatting, brainstorming such as interactive whiteboards.
Allows file sharing so that everyone can view the document or media.
The automated calls option allows call back to invite the people attending your webinar.
Webex is primarily a video conferencing suite and hence it is not completely suitable for webinar marketing but can support live events. It is far more than a webinar service but not the best marketing tool
So if you are looking for a single, powerful tool for video communication without any marketing features then Webex is best suitable for you.
We have checked several best options for webinar software platforms but these aren't free webinar software, however, other options also cater to a webinar software free version. The main examples that fall under this category are the Google Meet platform and Zoom Cloud Meetings platform which allows webinar sessions for large audience groups.
However, these might be the platforms that beginners can explore to set a target audience and gain support as these are basically video conferencing tools with some tools such as screen sharing, whiteboard, chat section etc which help in conducting webinars also.
Also, read about: Pro Tips To Make Google Slides Effective With Audio Content
In this article, we have discussed some of the best webinar software platforms along with their features, pricing, differences, etc. Hope this was useful in knowing about the best webinar solutions available for you in the market.